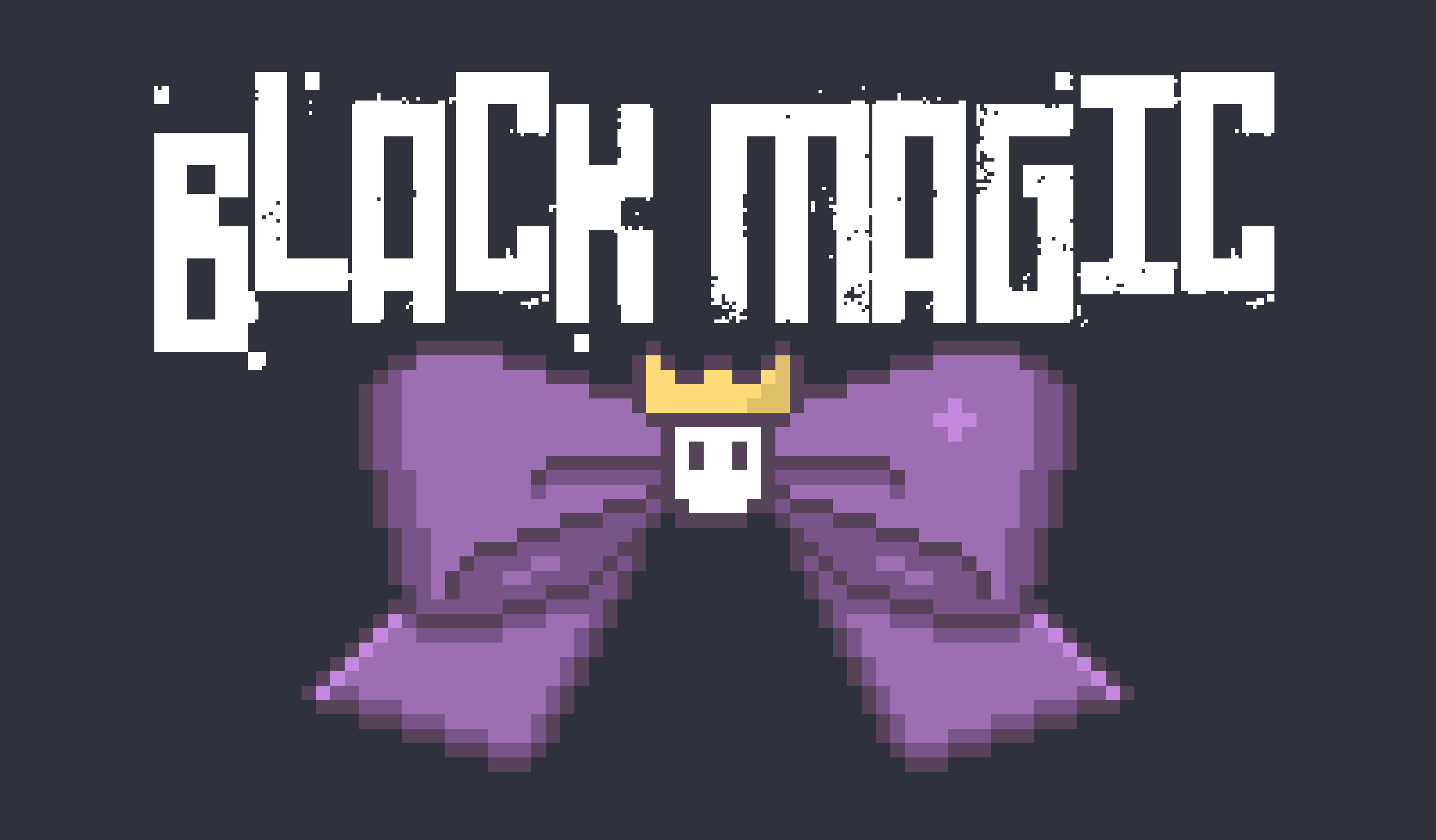 Black Magic
A downloadable game for Windows and macOS
Disclaimer
This is the first game that I've ever made on my own. It was built using Game Maker Studio 2. The music is from Free Music Archive, the rest of the game was created by me.
Update 4/24/18 - Fixed the door/dash issue with the original windows build.
Update 4/25/18 - The macOS build has been launched! After downloading the game unzip the file and then move the .app file to another directory or your desktop before opening.

Overview
Black Magic is a short game about a lonely sorceress seeking adventure and friendship. Enjoy exploring the castle, killing blobs and solving mini puzzles!

Controls
Movement = W, A, S, D
Attack = Shift
Interact = E or Enter Key
Pause Menu = ESC Key
| | |
| --- | --- |
| Status | Released |
| Platforms | Windows, macOS |
| Rating | |
| Author | Better Than Bread Games |
| Genre | Adventure, Puzzle |
| Tags | 16-bit, Action-Adventure, Dungeon Crawler, Female Protagonist, GameMaker, Ghosts, Halloween, Pixel Art, supernatural |
Download
Click download now to get access to the following files:
Black Magic (Windows)
6 MB
Comments
Log in with itch.io to leave a comment.
I absolutely LOVE the art, but they whole cat puzzle? I had no idea what I did to solve it.
Other than that, great game!! :)
(This is before opening the first door) I killed all the enemies I can find and explored all the rooms but I can't get enough blobs to create the potion and no key to be found. Am I missing something here? This is probably because I was careless because everybody else seems to complete the game.
Good question! To collect all the blobs you'll need to find a way through the locked door. There is another puzzle involving the cat that will help you move forward. If you're still stuck I can send you a direct message. :)
This is one of the best games I've ever played. I can't wait for more!
Hello! downloaded, played, and this is... a comment lol. But i would like the ATTACK key to be like A or something like that because SHIFT for me is uncomfortable to attack with. and the rest is amazing. good job!
Thank you so much for your feedback! I'm happy to hear you enjoyed it!
Since this game was intended to by short I likely won't update the controls for this one, but I will definitely keep that in mind for future releases.

Okay! But still, this game is amazing for your first one... my first game was bad af lol
Ha I'm sure it wasn't that bad! The fact that you finished it is amazing!
If you ever post it let me know. I'd be happy to play one of your games. :)
i don't think i'll ever post that game haha. i did it when i was like 9 and it's a crappy VN... yeah... lots of glitches bugs yatta yatta yatta... so yep. and therte weren't even options to choose anything. it was just like "READ IT AND GO AWAY" hah... i'm stupid lol
I think the attack button should be left click :P
Thank you so much for reviewing my game! I also appreciate you bring the door/dash issue to my attention. I just updated the file for future game plays. :)
Happy we could help and your game was really well done for a first game. The game plays really well, there were no game breaking bugs that were obvious, all the sprites were unique to each object and character. It's a really good starting point and looking forward to what you plan on making next.